Humanity First responding to disasters around the world!
Humanity First is dealing with unexpected back-to-back disasters in many countries. Our volunteers are on the ground and serving needs of the people impacted by these disasters.
Houston, TX: The initial disaster relief phase is nearly over. So far, more than 270 volunteers from 6 states and Humanity First Canada have served over 600 meals; 25 rescues by boats; gutted & cleaned more than 70 houses; distributed relief supplies including health & hygiene products, cleaning supplies, dry meals and water. We are planning for the second phase of rebuilding.
Jacksonville & Naples, FL: Initial disaster relief phase is still going on and expected to last another week. More than 30 Volunteers are distributing relief supplies and have helped over 20 homeowners with recovery clean-up efforts to make their homes habitable.
Mexico Earthquake: Humanity First disaster response team of 16 including 3 physicians are providing relief in La Nopalera in Morelos state and Mexico City. Relief efforts include distribution of food and water; helping with relocation of residents whose houses are damaged; and emergency relief supplies. Our team is also helping a local organization to establish a shelter to care for more than 200 people.
Puerto Rico, Guadeloupe and other Islands in the Caribbean: We have established local contacts and two disaster relief teams is getting ready to travel to Puerto Rico and Guadeloupe to initiate relief efforts.
Rohingya Crisis in Bangladesh: Humanity First is working in collaboration with local authorities in Bangladesh to provide relief to Rohingya refugees from Burma. We have started installation of 6 water wells and water tanks, and construction of toilets at two refugee camps in Bangladesh. In addition, we have established a large scale kitchen where we are serving hot meals to refugees.
Timbuktu, Mali: Timbuktu region in Mali is suffering with drought and sectarian violence where thousands of people are displaced from their homes. Humanity First team distributed 7 tonnes of rice and other relief items amongst the displaced populations.
Kenya & Somalia: Recently Humanity First assisted victims of drought in Somalia and Kenya, by providing them food, water and sanitation facitlities.
Emergency Appeal for Rohingya Crisis
Help urgently needed for Rohingya fleeing violence
In the early hours of 25 August, violence broke out in Rakhine State, Myanmar. As a result of the violence in North Rakhine families are being forced to flee their homes and walk for days to find safety across the border.
Most of the Rohingya refugees are women and children. Many people have been injured and are exhausted as they arrive in makeshift camps in Bangladesh. They are sick, exhausted and in desperate need of food, clean water and medical aid.
Most have walked for days, bringing with them harrowing stories of violence. Reports suggest that nearly 400,000 Rohingya refugees have fled to Bangladesh from Myanmar over the past few weeks, with numbers increasing every day. These refugees need life-saving assistance now. Many are without shelter or clean water.
Humanity First is actively working with its partners on the ground to ensure essential needs are met. With your help we can ensure that those in need are assisted as best possible.
Please help TODAY by making a donation to our appeal for humanitarian assistance.
Whilst it is our intention that your donation will be used to fund this relief effort, if monies raised exceed funding requirements for this relief effort or if we conclude for any other reason that it is not possible for monies to be spent effectively for this relief effort, Humanity First will use all or part of your donation to help us respond to other needs within our programme portfolio.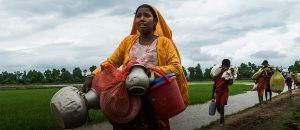 Humanity First Responds to Hurricane Harvey in USA
Hurricane Harvey made landfall on Friday, August 26, 2017 near Corpus Christi, Texas, as a Category 4 hurricane, bringing 130 mph sustained winds, torrential rains and flooding that has caused damage and devastation.Currently, Humanity First USA Disaster Response Team (DRT) is on the ground to assess the damage caused by Hurricane Harvey and is ready to provide relief to hurricane and flood victims as soon as the local authorities allow relief agencies to go into the disaster areas.Humanity First is also collecting donations to purchase and distribute the following in affected areas:
Water Bottles
First Aid Kits
Emergency Flashlights
Toiletries
Hygiene Kits
Baby Formula
Diapers
Canned & Non-perishable Food items
other essentials of life
If you would like to help make a difference in the lives of Hurricane Harvey victims, please donate generously to Humanity First.

Sign-up for Humanity First Newsletter