Eidul Adhiya Qurbani Service by Humantiy First
"Say, 'My Prayer and my sacrifice and my life and my death are all for Allah, the Lord of the worlds!" (Holy Qur'an 6:163)
Sacrifice in Africa and Feed the Poor Communities who continue to suffer even more due to COVID19 Pandemic
"Their flesh reaches not Allah, nor does their blood, but it is your righteousness that reaches Him. Thus has He subjected them to you, that you may glorify Allah for His guiding you. And give glad tidings to those who do good." (Holy Qur'an 22: 38)
There are many villages in Africa that live below the poverty line with an income of less than $1 per day. Eidul Adhiya is an occasion, where they get the luxury of eating meat.
Holy Prophet Muhammad (sa) said:
"There is one reward for every hair and every strand of wool! (of sacrificial animal)" (Ibn Majah)
Humanity First will sacrifice a goat, lamb or cow on your behalf in Africa (Niger, Nigeria, Chad, Cameroon, Senegal and other countries) and feed thousands of people who are malnourished and rarely get an opportunity to eat meat. Due to the COVID19 pandemic, many have lost their earnings and facing hunger and starvation.
Lamb: $199
Goat: $225
One share in Cow: $120
Full Cow: $840
Donations for Qurbani can be made online by clicking the options shown below.
or by mailing a check to Humanity First. All donations are tax-deductible.
May Allah accept all your sacrifices and reward you abundantly. Ameen!
Humanity First Canada
This is a service provided by Humanity First Canada and the full donation goes towards the Qurbani without any deductions for overheads.
The rates have been set considering the need in various countries in Africa and Asia.
Countries where the Qurbani Service will be offered: Chad, Cameroon, Niger, Nigeria, Equatorial Guinea, Gabon, Senegal, Haiti, Belize, Brazil, Bangladesh and Tanzania.
Some Beneficiaries: Families of children at HF Schools, refugees and displaced populations, victims of disasters, patients at HF and other healthcare facilities, orphans, remote villages in Asia and Africa.
Please reserve your Qurbani as soon as possible to facilitate arrangements.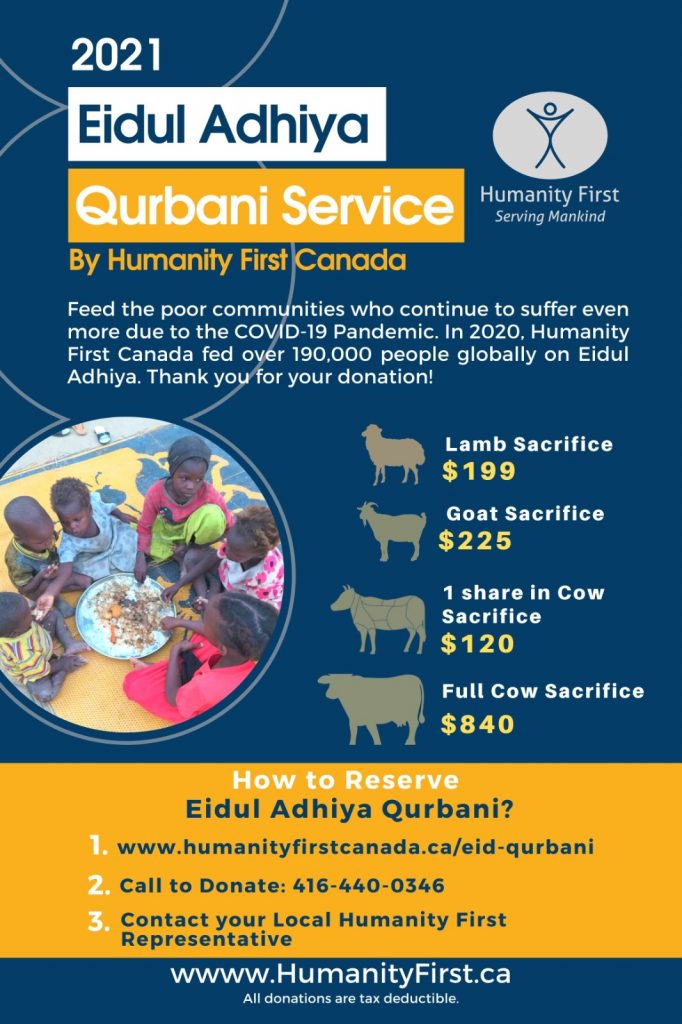 Donate via PayPal