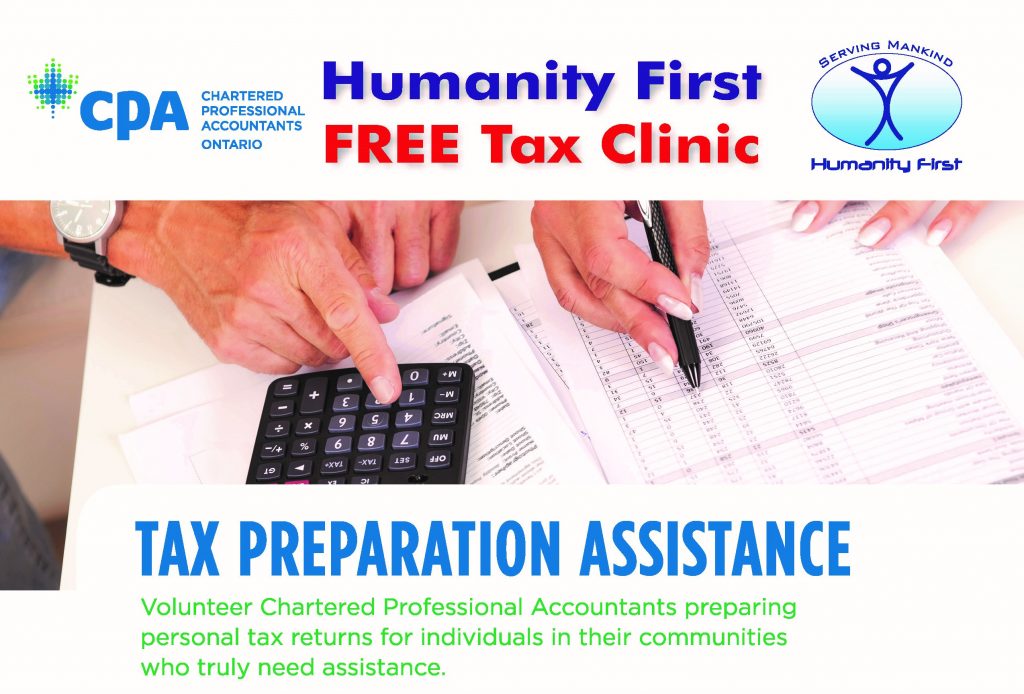 Humanity First is hosting a Free Tax Preparation Clinic on: 
Date: Sunday, March 14, 2021 
Time: 9 am to 4 pm
In-Person:  By appointment only at Humanity First Office – 600 Bowes Road, Unit 40, Concord, Ontario, L4K 4A3
Virtual:    Only on Sun March 14, 2021 – You must have a computer with audio and video capabilities and an email account. 
Please first register and then email your documents in advance to info@humanityfirst.ca. Virtual filing is also BY APPOINTMENT ONLY (We are unable to accept walk-in clients)
Volunteers will prepare and file Tax Returns for eligible individuals/families free of charge.
For individuals who are working, the cut-off for the income is as follows:
Eligibility Criteria:
| | |
| --- | --- |
| Taxpayer status | Family income |
| Single | Up to $25,000 |
| Couple | Up to $35,000 |
| One adult with a child | Up to $30,000 |
| Seniors | Free Less than $35,000 |
–
Anyone receiving Ontariowork, Ontario Disability Support Program(ODSP), Employment Insurance(EI), Old Age Security, & Guaranteed Income Supplement are eligible to file their tax returns with volunteers of Humanity First.
Due to the pandemic and physical distancing requirements, you must book an appointment in advance.
We request you to please enroll online to file a free tax return:
http://hf.humanityfirst.ca/taxfiling/
Please bring in your Social Insurance Card and the tax return summary for the base year along with the necessary/applicable items from the list below:
If you are planning to file virtually, then please be prepared to scan and email the documents as a single PDF file.
Original Social Security Card
If possible (Last year tax Assessment)
Employment income
Old Age Security pension (OAS)
CPP benefits
Other pensions or superannuation
Universal Child Care Benefit (UCCB)
Employment Insurance and other benefits
Rental Payment ( Property Rent)
Support payments received
RRSP income
Workers' compensation benefits
Social assistance payments -T5007 slip
Net federal supplements
Donations Receipts
For further information please email info@humanityfirst.ca. Appointments cannot be booked by email or phone. You must book an appointment online only at http://hf.humanityfirst.ca/taxfiling/